Click here for a recalling of Keith Cain's talk at the cemetery
remembering our members who have gone before
and who passed on the torch on to us.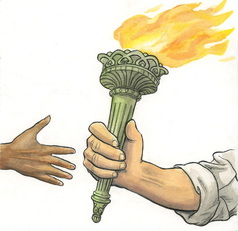 Top L:  Jim & Susie DuBose – a young preacher for us a while ago
Top R:  Jim & Sharon Mayberry – her Preuitt grandparents were some of the earliest members of our congregation around 1919.
Lower L:  Lynn & Sharon Jennings – a young song leader for us a while ago
Lower R: Keith & Suzanne Cain, a driving force behind our getting a new building.
Top L:  Curtis & Jackie Odom: He filled in for his father, Jerry Odom, who worked with the cemetery to locate former members and arranged for former ministers and song leaders to come, then had a stroke a couple day before our homecoming.  We prayed mightily for Jerry, a tower of strength to everyone since his own conversion in 1950 and that of Billie, his wife, about the same time.
Top R:  Everett Martin whose family came here early on. He was a long-time leader in the Joy Bus Ministry at the "old building".
Lower L:  Curtis Odom.
Lower R:  Katheryn Haddad
This is Jerry Odom's address if anyone would like to write him. Without him, this homecoming would not have been possible.  jlodom@q.com
Thank you, Jerry