This past week we combined our blog page with our website. There are many teaching tools on the website for skeptics in the Christian world as well as in the Muslim world. The transfer is not complete, but close to it.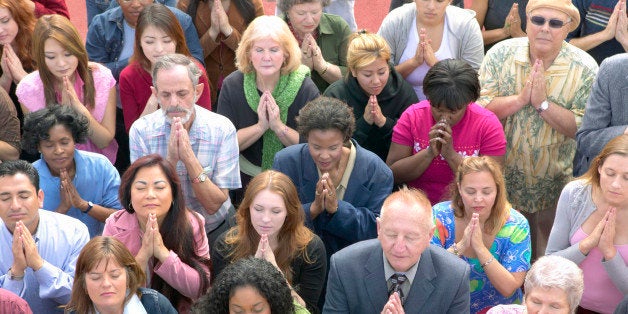 From the Preacher's Pen… Last week we looked a bit at the importance of prayer. Once we realize just how powerful prayer is for God's people, we need to ask an important question, "What are the ingredients of proper prayer to our God?" So let's consider a bit about the…
Ingredients of Prayer
Any recipe will have a list of the proper ingredients and may even contain some notes about what not to include lest you misunderstand and substitute incorrect things. Jesus offers us a bit of commentary as well as a recipe for prayer in his "Sermon on the Mount" (Matthew 6:5-15).
He begins with a couple of wrong ingredients that will ruin our prayers. First is prayer for the wrong reason. If our goal in praying is to have human praises, then we are wasting our time and God's. Instead, our prayers are to be kept as a private conversation with our God. Now obviously the consideration here is about our personal prayers. Leading public prayers for a congregation of God's people is another matter since our requests need to be about the congregation's needs and not our personal ones. But our personal, private prayers are NOT for broadcast to make others think of how wonderful and godly we are. If that is our purpose, our reward is limited to whatever public praise we receive (Matthew 6:5-6).
Second, and very closely linked to the first, is a babbling prayer (Matthew 6:7-8). What most translations render as vain or meaningless repetition is the very rare (only used here in the NT) Greek word battalogeō, meaning to "keep on babbling." Jesus is not condemning long or even repetition in prayer. He himself prayed at length (cf. Luke 6:12) and was known to repeat himself in prayer (cf. Matthew 26:44). In fact, he taught us to keep praying for the same things and not give up (cf. Luke 18:1ff).
His insult of the wrong kind of prayer is extended by linking it to the pagan world. What we might well call showboating has no place in our prayers, neither private nor in public prayers. That becomes an important reminder in our public prayers when we begin preaching and quoting endless scriptures to God. The Lord authored the scriptures and our God certainly doesn't need us to preach to him. So those ingredients have no place in our prayers.
Jesus then gives one of the finest sermons on the ingredients of prayer in Matthew 6:9-15. Always remember that Jesus is NOT teaching us the exact and only words to use in prayer. He is teaching us HOW prayer is constructed that we might both honor our God and properly seek his blessings.
Prayer begins with the important reminder of just who it is we are addressing. "Our father in heaven" reminds us of both the close relationship and, at the same time, the proper respect due the true God. While a child must respect his or her parents, they enjoy a precious, close and loving relationship that does not belong to outsiders.
Our God is first and foremost our father, and his name and person are the very embodiment of holiness. Given that God repeatedly tells us, his children, of our holiness, our sanctification in him, the recognition of God as holy is the recognition of all that we are called to be in his family. That relationship leads naturally to the desire to obey God's will that we might magnify his kingdom here on earth!
As Jesus moves to seemingly more common, earthly needs, he begins with the basics of easily forgotten things. We may well imagine that our food, clothing and shelter are the result of our hard work and earning them. What we must learn is that they are not. Our daily bread is as much a gift from our loving Heavenly Father as was the manna to his children in the desert!
Closely tied to this understanding of the seemingly common things are the important spiritual things. Our forgiveness by God can never be seen as optional. We must have it if we are to live eternally with him. And yet it is contingent on us having already done our part in forgiving others. If there is any chance that we might miss this vital point about our forgiveness, Jesus restates it plainly in verses 14 and 15.
Equally close in relationship to forgiveness is the need to learn to grow up and move away from temptation. Forgiveness is never an excuse to do wrong. Forgiveness implies the need to learn to avoid temptation, and our God will even help with that.
The first three petitions focus on God's name, God's kingdom, and God's will. They stand independently from one another but the last three are linked in Greek by "and," as if to say that life sustained by food is not enough. We also need forgiveness of sin and deliverance from temptation.
While there are a multitude of praises, requests and needs that we may address in prayer based on these example ingredients, there's one other important, special ingredient added later by the Lord that we need to keep in mind. That is praying in or through Jesus.
John's Gospel in chapters 14-16 repeatedly quotes Jesus' final reminders to his disciples that he is (John 14:6) the way, and the truth, and the life and that no one comes to the Father except through him. From John 14:13-14 onward he makes it even clearer that his disciples are to ask in or through Jesus' name (cf. John 15:16; 16:23f).
It is for this reason that you often hear prayers concluding with "in Jesus' name I (or we) pray." But do keep in mind that there is no magic formula that is the only "approved" way for you to ask in or through Jesus. While these words coupled with understanding of who Jesus really is do accomplish the fulfilment of that command, they are by no means the only proper words or way to acknowledge him. Also keep in mind that there are no "bonus points" (or any points at all, for that matter!) for prayer offered in Jesus' name by those who do not really live for and obey Jesus (cf. John 14:15).
Two final scriptures are worthy of remembering about the ingredients of prayer. First, Be anxious for nothing, but in everything by prayer and supplication with thanksgiving let your requests be made known to God (Philippians 4:6). Second, And if we know that He hears us in whatever we ask, we know that we have the requests which we have asked from Him (1 John 5:15). Whatever your prayer, be thankful in all things and know that your heavenly father both hears and answers with what is his best for you.
— Lester P. Bagley