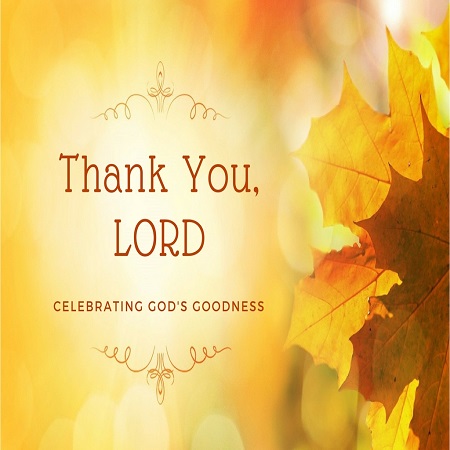 CLICK TO HERE FOR KIDS AT A CHRISTIAN CAMP SING THIS
From the Preacher's Pen…
Do you give thanks to God? At first glance that seems a silly question for Christians. Should we not always be thankful to the Lord?
A great Bible study is to look at the passages in the Bible (over 80 of them) that express the lesson of giving thanks to God. Let's take a look at some of Paul's thoughts on this subject:
Thanks to God
As Christians, we truly have countless blessings and unlimited reasons to be thankful to God. Indeed, the point of one of our hymns is that in counting our blessings we come to appreciate just how many and great they are.
On five occasions Paul specifically commented in his writings that there was something special to remember as an exceptional reason to be thankful to God. Each one presents a lesson in what impressed Paul as a blessing deserving of our thanksgiving.
The first occurs in Romans 6:17:
But thanks be to God

that though you were slaves of sin,

you became obedient from the heart

to that form of teaching to which you were committed.
Do we remember to be thankful to God for our hearing and our sincere obedience to the Gospel? For every single one of us, there was at least one person (and perhaps several people!) that loved the Lord enough to share the truth with us. That blessing leads directly to real freedom as we obey the commands of God that free us from sin and transfer us into Christ's kingdom (see Colossians 1:13). Thank you, Jesus, for taking us from slave to brother or sister!
The second thanks to God is Romans 7:25:
Thanks be to God

through Jesus Christ our Lord!

So then, on the one hand I myself with my mind am serving the law of God,

but on the other, with my flesh the law of sin.
Paul is discussing (Romans 7:14-25) the fact that the Law, while it exposed our sin and the need for forgiveness, could not really free us from the consequences of sin. Only for those IN Christ is there true freedom from sin (cf. Romans 8:1).
The third thanks to God comes in 1 Corinthians 15:57:
But thanks be to God,

who gives us the victory

through our Lord Jesus Christ.
Here Paul's lesson (1 Corinthians 15:50-57) reminds us of the change that is coming to our bodies when Jesus returns. This is the final great victory as the old fear of death is literally swallowed up by victory. Paul's very next words challenge us to truly live as those that are genuinely thankful as he says, Therefore, my beloved brethren, be steadfast, immovable, always abounding in the work of the Lord, knowing that your toil is not in vain in the Lord (1 Corinthians 15:58).
The last two expressions are in 2 Corinthians. Let's look first at chapter 8, verse 16:
But thanks be to God

who puts the same earnestness on your behalf

in the heart of Titus.
Here Paul is challenging the Christians in Corinth to willingly and generously participate in financial aid to other Christians that are in need. Titus, one of Paul's young coworkers, has offered to go to Corinth to bring their generous gift to Paul. Thankfulness for fellow Christians and their work for the Lord is an important part of our who we really are as children of God!
Finally, Paul uses this phrase of thanking God in 2 Corinthians 2:14:
But thanks be to God,

who always leads us in triumph in Christ,

and manifests through us the sweet aroma

of the knowledge of Him in every place.
Paul has faced criticism from some for disfellowshipping blatant, unrepentant false Christians in the church at Corinth. In spite of human criticism, the Lord blesses not only Paul but all those who faithfully serve God. Paul's words follow the language of the Roman military parades as the true victors are led in triumph to the disgrace of the losers that can only criticize. Yes, God expects us to be thankful that He gives us victory over those who would degrade and destroy His precious Kingdom.
Thank you, Lord, for making us part of your incredible, eternal family. Thank you for all that means in saving us from sin by the gift of your own life. Thank you for giving us an important job in your kingdom to be your light in this world. Thank you for our family in Christ that we might work together to do your will. And thank you for victory in Jesus. May we never forget to thank you for everything and the certain knowledge that you are our God!
— Lester P. Bagley